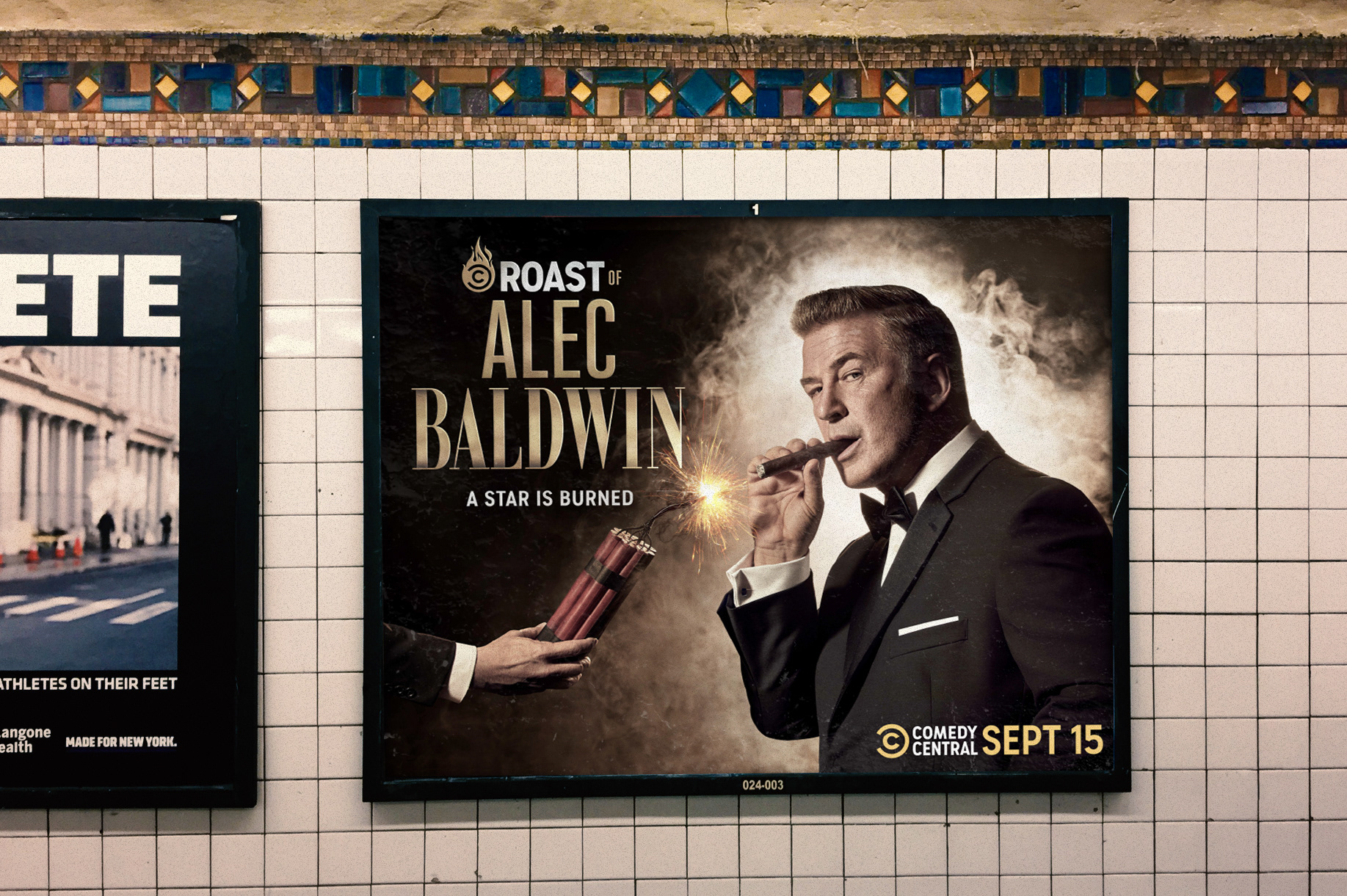 For nearly 20 years, the Comedy Central Roast has reigned supreme, earning prestige as a marquee broadcast and becoming one of the most-watched television events of the year. Through a long and sordid history, the Roast has attracted a diverse range of celebrity talent, from actors and comedians to pop-stars and presidents. 
In 2018, Comedy Central announced plans to roast the one and only Alec Baldwin. Red-blooded, raven-haired, and former bad-boy of Hollywood, Alec Baldwin has enjoyed a multifaceted career, spanning film, television, and the stage.
In the late 1980s, Baldwin made a name for himself on TV, appearing in several television dramas. Soon after, the actor made the transition to film, rocketing to stardom in big-screen hits like Beetlejuice (1988) and Glengarry Glen Ross (1992). Years of success in film, television, and Broadway followed, despite regular tabloid attention that spotlighted his personal relationships, bad temper and paparazzi quarrels.
Never one to fade away, Baldwin has recently enjoyed a renaissance. With a string of critically acclaimed television roles and a now infamous portrayal of President Donald J. Trump on NBC's, Saturday Night Live, Alec Baldwin's star has never burned brighter…until now. 
As the Comedy Central Brand Creative team came together, we were faced with a fundamental question: Who is Alec Baldwin? 
We met daily to find the answer, researching the actors professional career, pop culture significance, and personal characteristics. 
Throughout our discussions, we came to understand Alec Baldwin as uniquely multidimensional. Far different from Roast stars of the past, like Bruce Willis, an action-movie hero, or Justin Bieber, a teenage pop star, Alec Baldwin is many things, but he is not one-dimensional. 
For us, this reality posed a great challenge. 
After a series of team brainstorms, we hit a wall. Although we outlined several creative directions, none—to me personally—felt like a winner. At this point, time was working against us. A meeting was scheduled for the following week where our ideas would be presented to the executive Creative and Marketing teams, respectively. 
By all accounts, the clock was ticking. 
That weekend, in a last ditch effort to come up with the right idea, I immersed myself in all things "Alec Baldwin". I watched his movies and TV roles, scoured his IMDB page and listened to his podcast. Altogether, I felt I was coming closer to an answer, but I still couldn't put my finger on it…until I followed him on Instagram.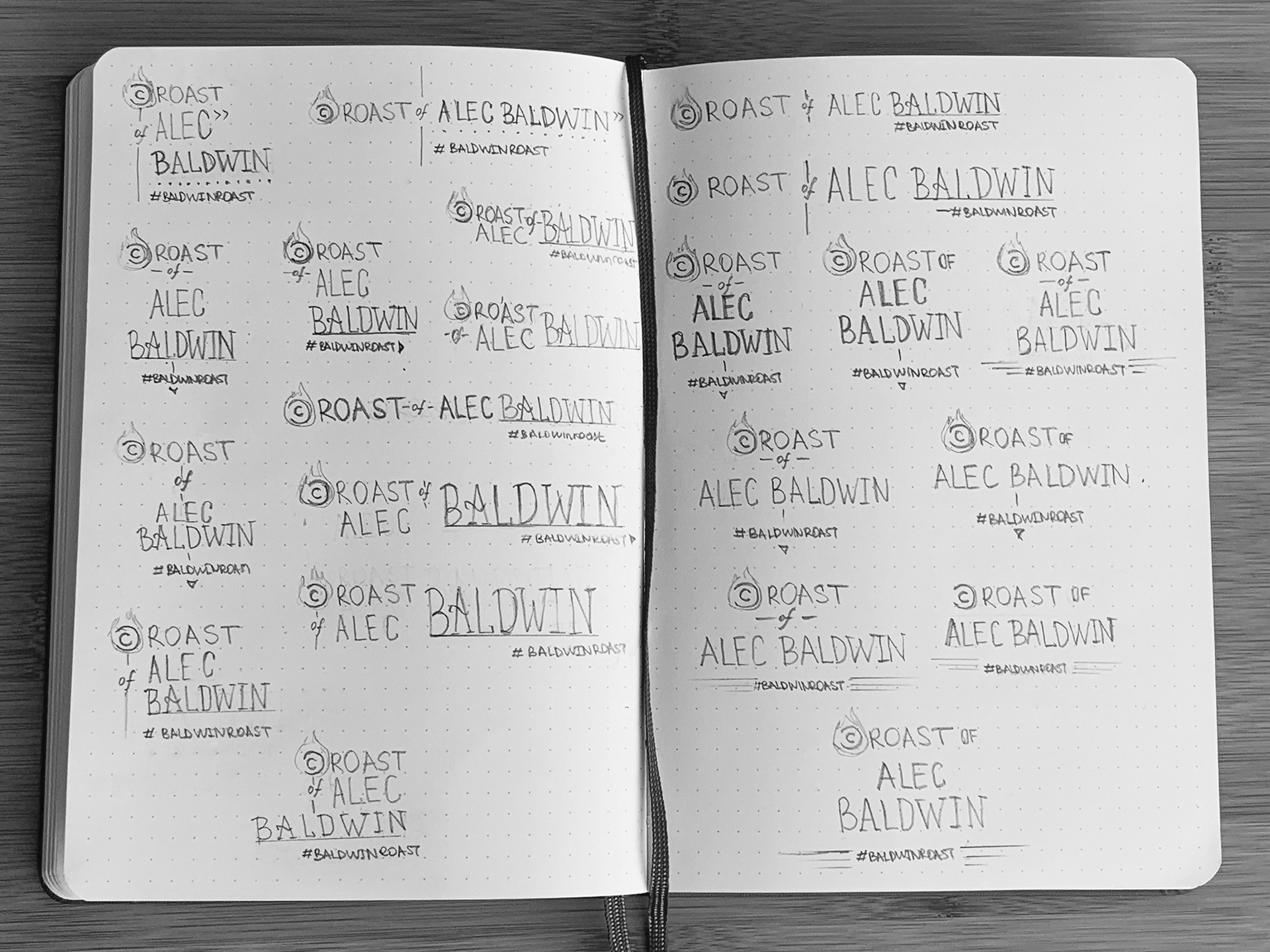 In a series of Instagram posts, Alec Baldwin proudly expressed his admiration for the leading men of classic Hollywood. In one post specifically, he likened himself to the onetime "King of Hollywood," Clark Gable. Instantly, the creative lightbulb turned on.
In all of our creative brainstorms, the 'big idea' had eluded us. Indeed, we discussed nearly every aspect of Alec Baldwin—his charm, his temper, his ego, his hair, etc.—but somehow, we were missing the core essence of the man himself.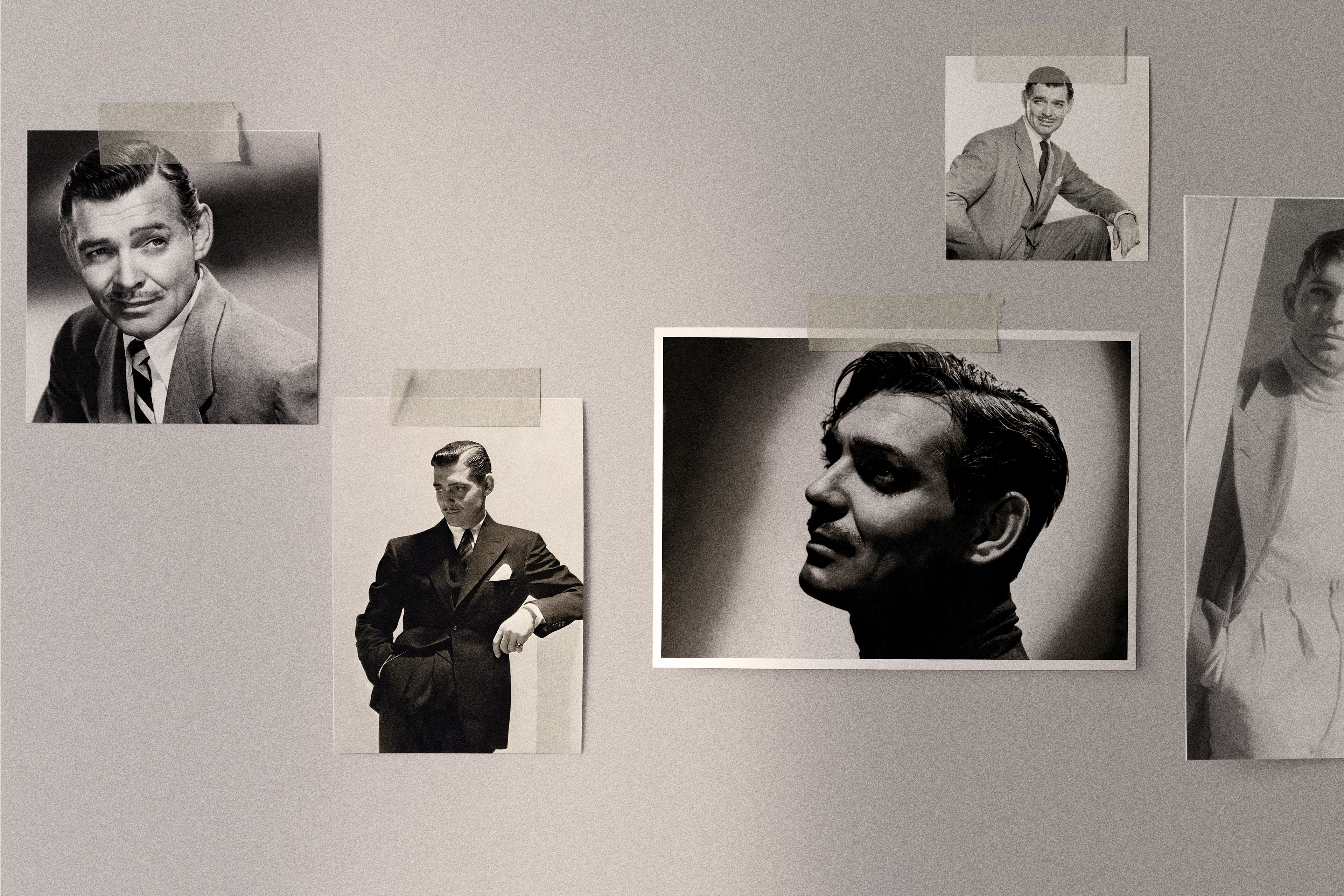 On the Monday that followed my creative breakthrough, I recounted my weekend activities to the team. 
Describing Baldwin's affinity for Clark Gable, I pitched my idea. Let's cast Alec Baldwin as the quintessential Hollywood actor. We'll style him like a leading man, amplify his charm, embrace his bravado and simply, let Alec Baldwin be Alec Baldwin. 
Establishing this point of view in our creative would allow us to provide the most authentic campaign for the star and the most compelling story for our audience. 
The team listened and took note.
In the days ahead, I created a number of design directions for the Roast logo and key-art. At the same time, the editorial team began crafting key-art tag-lines and promo concepts.
Building upon the idea of Alec Baldwin as a 'Star', as well as designing for ideas pitched by other team members, we created a pitch deck that consolidated our ideas into three core directions. These directions were supported by both logo and key-art sketches, as well as promo scrips, which we pitched directly to Alec Baldwin.
To my excitement, the "star" idea won out. Inspired by "Clark Gable," we would portray Alec Baldwin as a classic actor and leading man of Hollywood.
Now, its was off to the races.
My chief contributions began in collaboration with the larger team, but as the project grew, I became increasingly involved in various aspects of the campaign. 
I played a key role in show branding for both Off-Air Design and On-Air Design, most directly in campaign logo and key-art.
Throughout this case study, I do my best to make linear sense of an often non-linear creative process. In showcasing work through a narrative lens, I hope to make it more digestible. 
Much of the work featured in this case study began in the early phases of brainstorms, then stopped because our creative conversations took a turn. For context, I decided to feature them anyway. 
Then, at other times, you'll see creative which was pitched mid-way through the process, gained traction, then became fine-tuned along the way.
Overall, my hope is that viewers of this case study walk away with a better contextual understanding of the blood, sweat and tears that go into creating a brand campaign for a major television event. In this business, the end result is never driven by one person alone, but a collective whole, fueled by passion, hard work, and little bit of grit.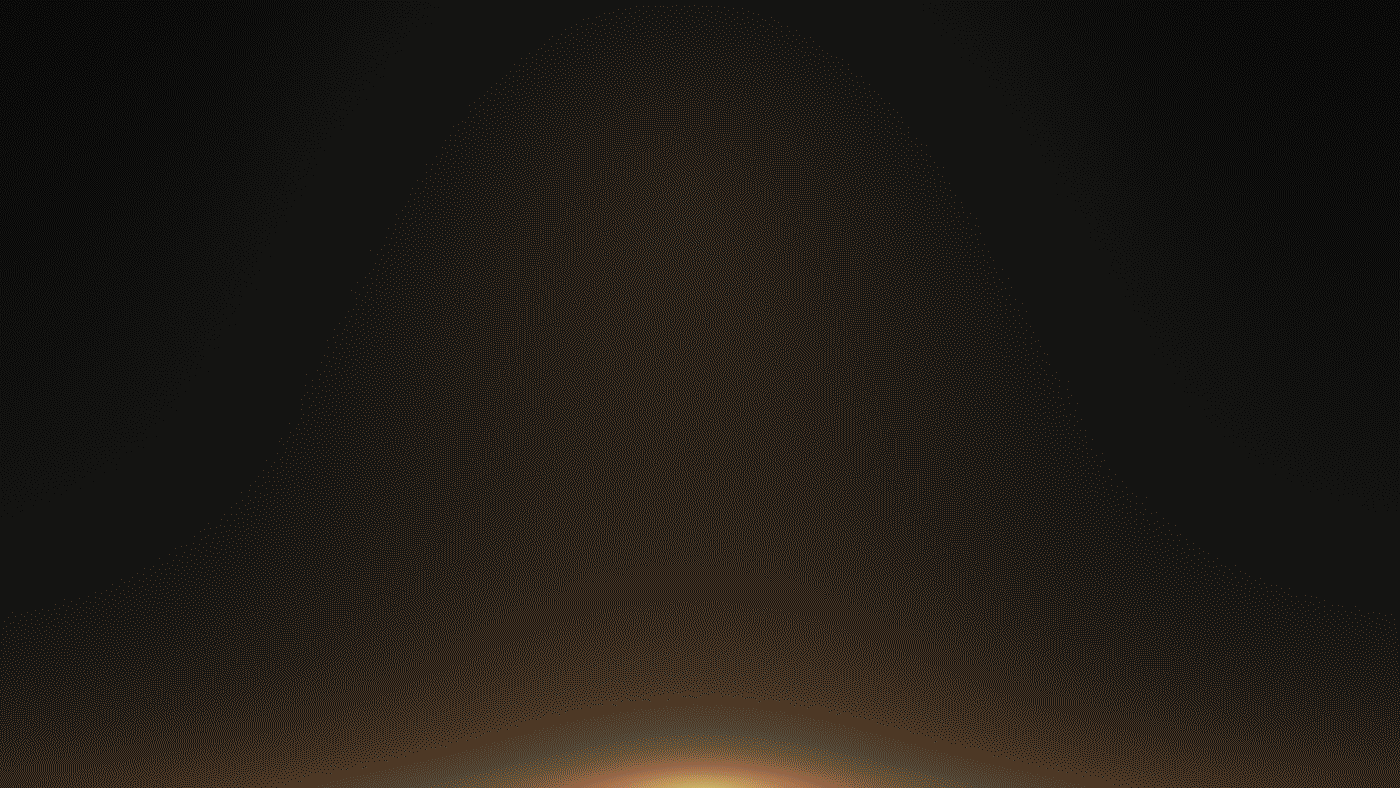 "GABLE" (FINAL LOGO - STACKED)
The final logo for the Comedy Central Roast of Alec Baldwin is meant to be regal, yet modern. It takes inspiration from old Hollywood, utilizing a dramatically condensed serif typeface that evoke the sentiment of classic cinema title-cards, and is contrasted against a more modern sans-serif typeface that has a reverence for the past but is also forward-looking.
For me, these ideas go hand-in-hand with Alec Baldwin: an actor who sees himself in the image of Hollywoods greatest leading men, but someone who is also devoutly progressive, with a penchant for trouble. For me, it is this complicated tension—a stark duality—of classicism and crass that define Alec Baldwin.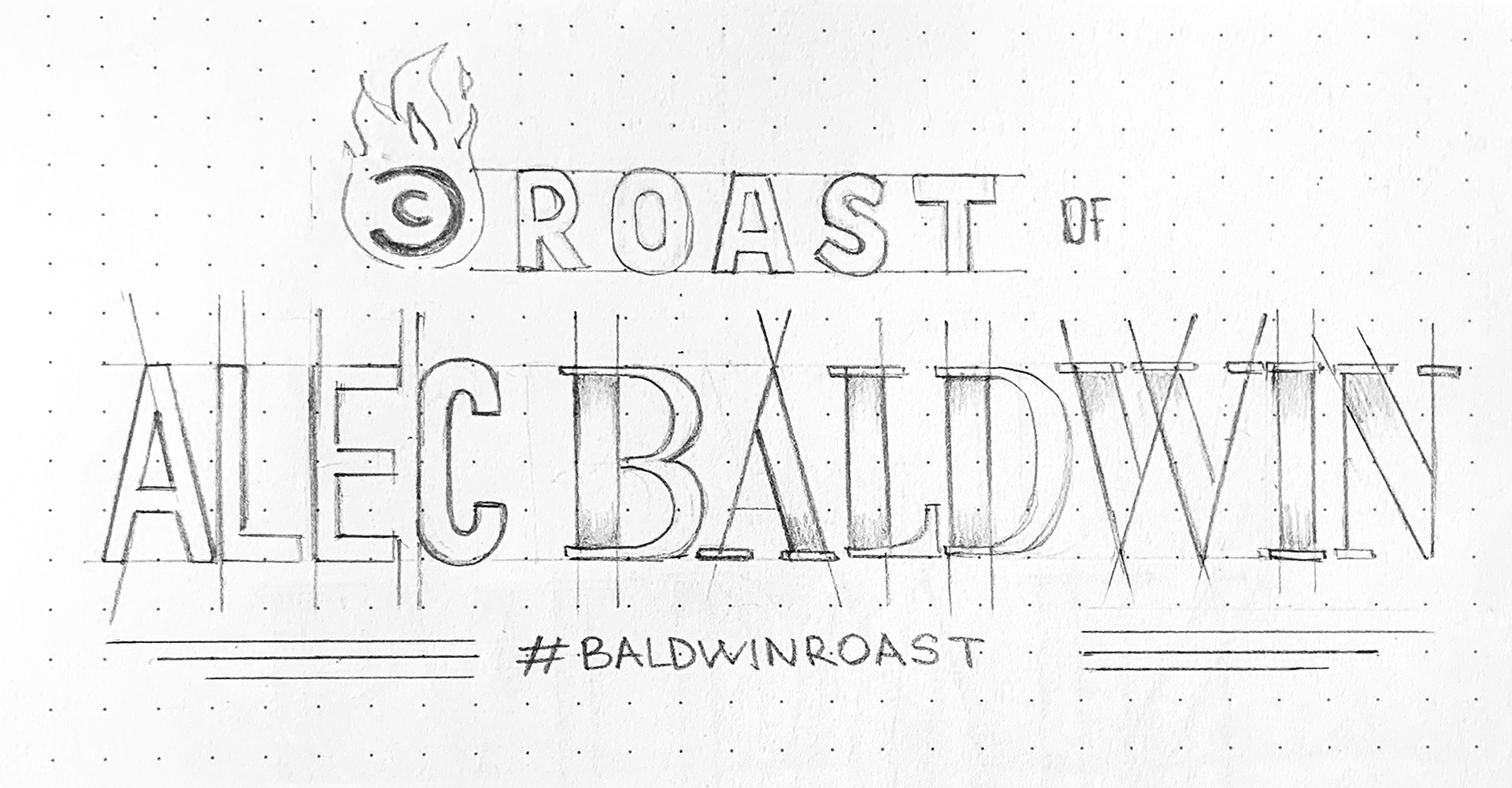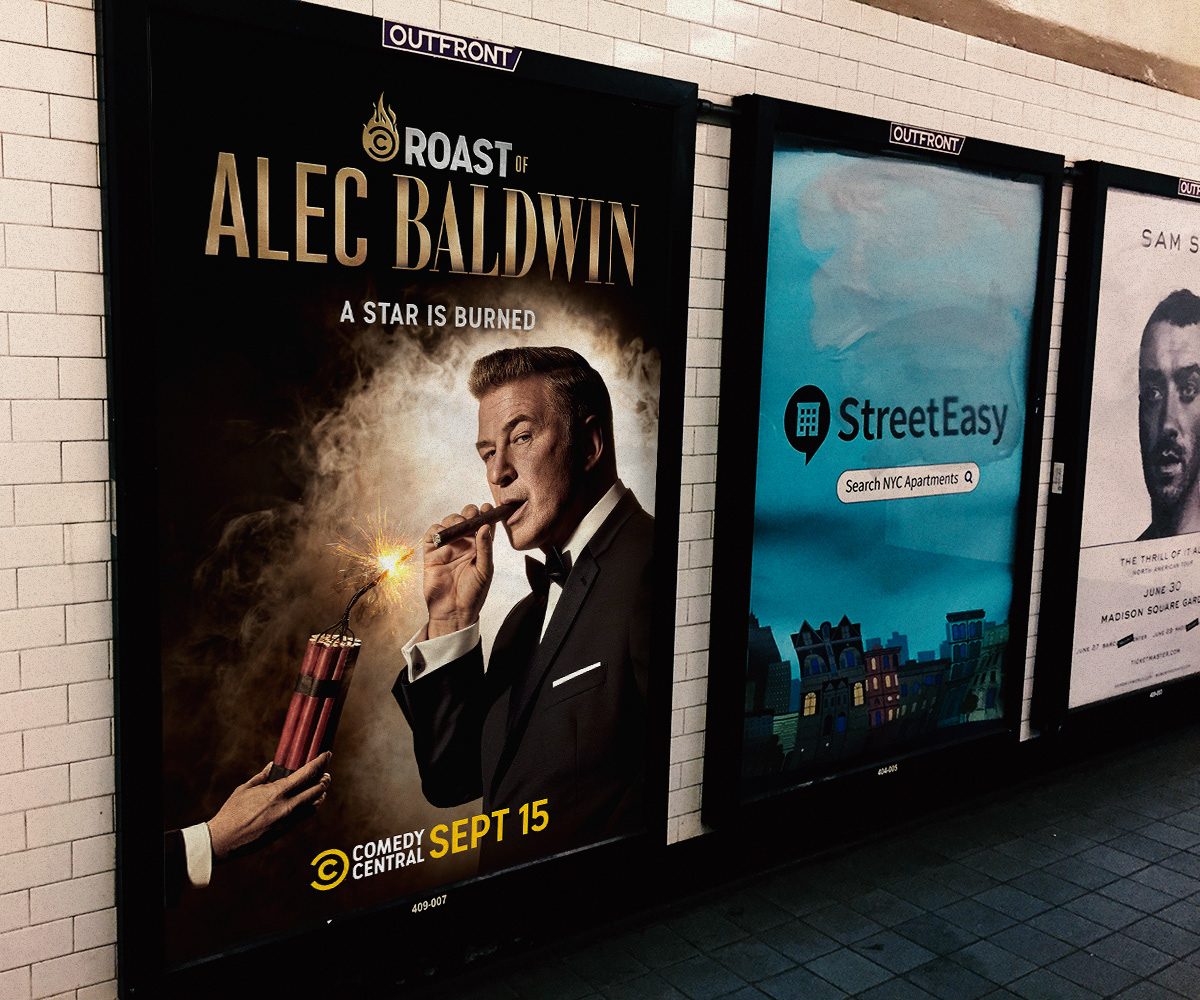 "GABLE" (SEMI-FINAL LOGO - V2)
Prior to finalizing the logo, this phase shows the mark in a semi-final state, employing a 'spear' that was made to anchor the logo into one singular unit.

"GABLE" (SEMI-FINAL LOGO - V1)
In this version, we see the foundation of the final logo taking shape, integrating the 'spear' (described above) but utilizing thinner type weights.
​​​​​​​

The original iteration of the logo was grounded by a baseline bar, in an effort to make it feel more substantial. Through the streamlining process of the build—and distillation of elements down to the bare necessities—this element was stripped out.
​​​​​​​

Inspired by the classic Hollywood "The End" graphic that became a tradition of early film, this lockup harkens back to the early days of cinema, when hand-lettering was the industry standard prior to typesetting. With a melodramatic script juxtaposed against a multi-layered type, I wanted to create a lockup that paid homage to this definitive era in movie history, conjuring up memories of film noir and the heyday of the big Hollywood studios, like Warner Brothers and MGM.
​​​​​​​​​​​​​​

With sinuous, vine-like ligatures that flourish throughout the lockup, this direction was influenced by the Art Novuea movement, popularized by artists like Gauguin, Toulouse-Lautrec, and Mucha.
Art Noveau, literally translated as "New Style," was a deliberate broke from modernism. In this, I likened the style to Baldwin, who similarly touts himself as 'his own man,' snubbing the establishment and embracing progress.
​​​​​​​

Taking cues from the romantic late mid-century typography of book jacket design and literary fiction, this direction is a playful take on the genre, seeing Alec Baldwin as the unforgettable main character.
​​​​​​​

Alec Baldwin's personality exhibits a number of complicated and often contradictory qualities. Likening the dichotomy of his personality to a jigsaw puzzle, the "ASSEMBLAGE" direction emerged. This direction carefully arranges various letterforms of his name in unique combinations to describe the complex nature of the actors personality.
​​​​​​​

Not shying away from the 'Hollywood' angle, I wanted to re-image the Alec Baldwin name as billboards from a Hollywood backlot. The result is majestic and over-the-top, just like the man himself. 
​​​​​​​​​​​​​​

Using the Hollywood script as a design metaphor, I created a simple lockup that sees the name, "ALEC BALDWIN" as the title of a movie script. With a modernized spin on a 'typewriter' font, this lockup is made to feel direct and to the point.
Literally, I wanted to place emphasis on the "ALEC" script alongside the "BALDWIN" name. This is meant as a figurative statement, in suggesting that Alec stands apart from his family name and lives life on his own terms.
​​​​​​​
As a fan of boxing, and a guy known to throw a few punches himself, I create a logo direction that took influences from the vernacular of classic 'fight-night' boxing posters. The recipe for this look pairs an expanded and condensed typeface with bold graphic elements that feel 'stamped' onto the lockup.
​​​​​​​​​​​​​​

In a direction that mixes macho type with an artisanal bent, this direction is influenced by the styles of typography seen in indie breweries. Like Baldwin, the type has modern leanings but grounded in a sense of heritage, featuring a lockup that nests "ALEC" into the center type of "BALDWIN" for a unique stacking lockup.
​​​​​​​​​​​​​​

With Baldwin declaring himself a self-confessed 'Harley guy', nothing says 'bad boy' like a motorcycle. Motivated by the actors reverence for old-Hollywood rebels like James Dean in "Rebel Without A Cause," this lockup looks back at the flaring typography of biker art, popularized by motorcycle films, riders club fliers, and airbrushed typography on helmets and engines.
​​​​​​​​​​​​​​

With a history of playing acclaimed roles in film, television and stage, one of the lesser known passions of Alec Baldwin is his love of music, particularly jazz. In this direction, I explore the typographic pairings and geometric shapes that became popular graphic motifs for classic jazz record labels, like Blue Note Records and jazz clubs like Birdland.
​​​

Often cast as an opposition character in his films, this lockup was designed to feel proudly rebellious. With pointed serifs and an extra condensed type weight, the logo feels devilishly formal, not unlike Alec Baldwin, who prides himself on being the the dark sheep.
The 'pull quote' has long been used in movie trailers, film posters, magazines and newspapers as a typographic device to draw interest. In this direction, I re-purpose the device as a logo concept. Calling on the famous '4-Star Rating System' of film reviews, I weave in this familiar symbolism to construct an appropriate logo identity for Alec Baldwin.
​​​​​​
Connecting the logo-type to a stylized marquee, this direction takes collective inspiration from the classic Art Deco cinema signage and architecture of the 1930s. Knowing that Alec Baldwin has a soft spot for this early era of Hollywood, seeing his name in figurative lights was designed for instant appeal.

Since Alec Baldwin is a self-confessed car-guy, I wanted to design a logo that leaned into the attitude and flamboyance of classic American muscle cars. By skewing the type forward, a sense of motion and speed is implied. The lockup takes inspiration from the kind of logo you'd see as a chrome emblem or hood ornament of a 1967 Ford Mustang "Super Snake" or 1967 Chevy Camaro.
In Greek mythology, Orion was a huntsman and God of the Stars. Similar to Baldwin, he is known to exist on the margins of society, or in Baldwin's case, the margins of Hollywood. Similar to the way Alec Baldwin famously describes himself as the "best known of the four Baldwin-brothers," Orion was considered the brightest and most beautiful of all constellations. Not surprisingly, the two also have something in common with hubris.  
​​​​​​​​​​​​​​

Looking back to the distinct craftsmanship of Baroque signage, a stylized serif is anchored onto a frame backplate. Meant to feel kingly, this direction alludes to the Baldwin gravitas without getting too ornate or feminine.
​​​​​​​​​​​​​​

Alec Baldwin is two things: a guy from Long Island and a man of Hollywood. In this lockup, I incorporate a 'slash' ("/") as a design motif to distinguish (and separate) those two qualities. Through animation, I proposed that the "/" be used as a motion device, revealing different aspects of Baldwin's personality in type (example: actor, bad boy, brother, dad, progressive, etc.).
​​​​​​​​​​​​​​

As an unwilling target of tabloid journalism, Alec Baldwin has a complicated relationship with the press. Through decades of front-page stories, Baldwin has been cast as everything from a womanizer to a hot-head. This direction employs subtle details of editorial page layout, with type at left-alignment, arrow symbols, and dotted underlines to suggest an editorial sentiment. 
​​​​​​​
LOGO SKETCHES (INITIAL EXPLORATIONS)
The sketches below showcase the various logo explorations presented above.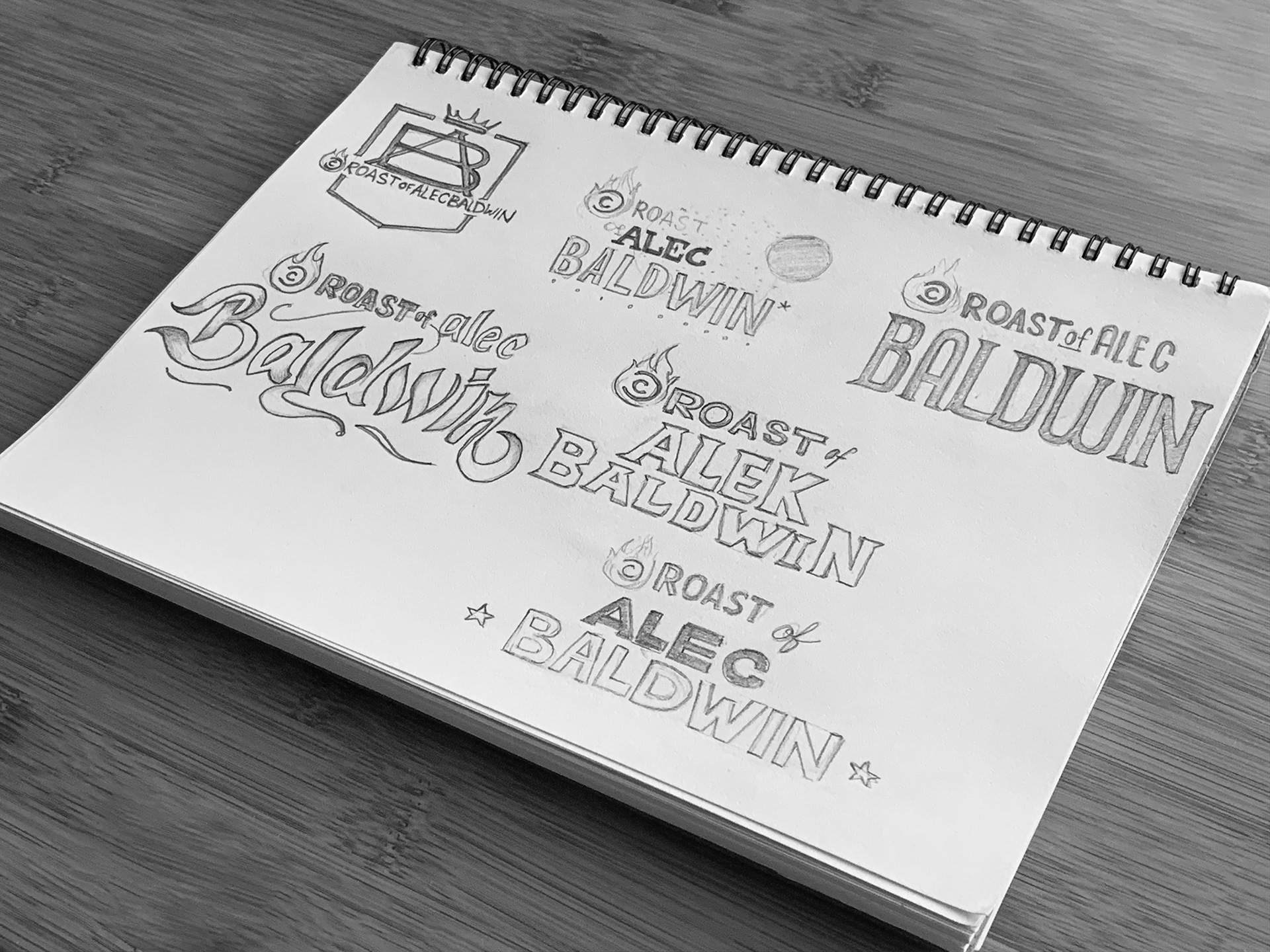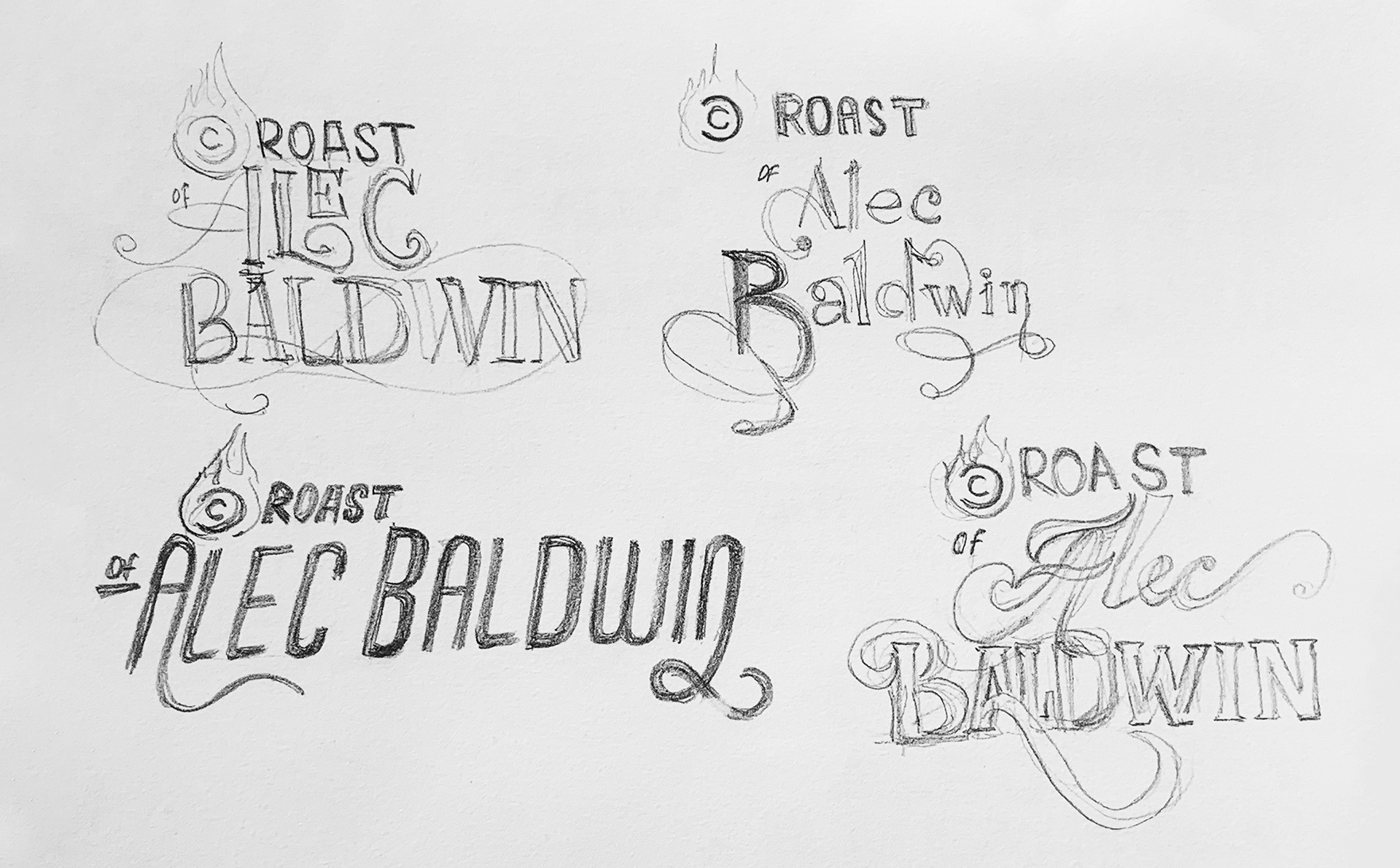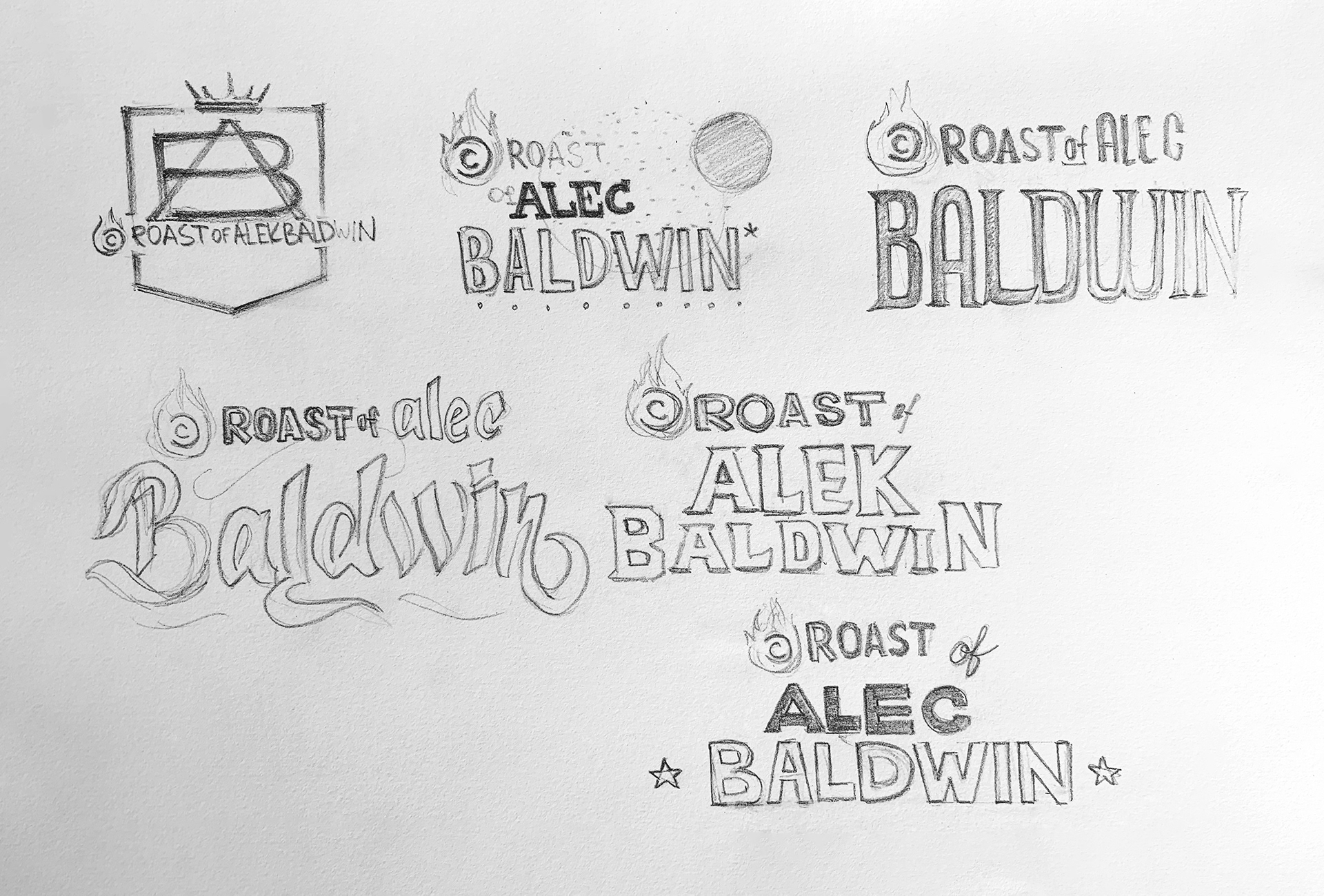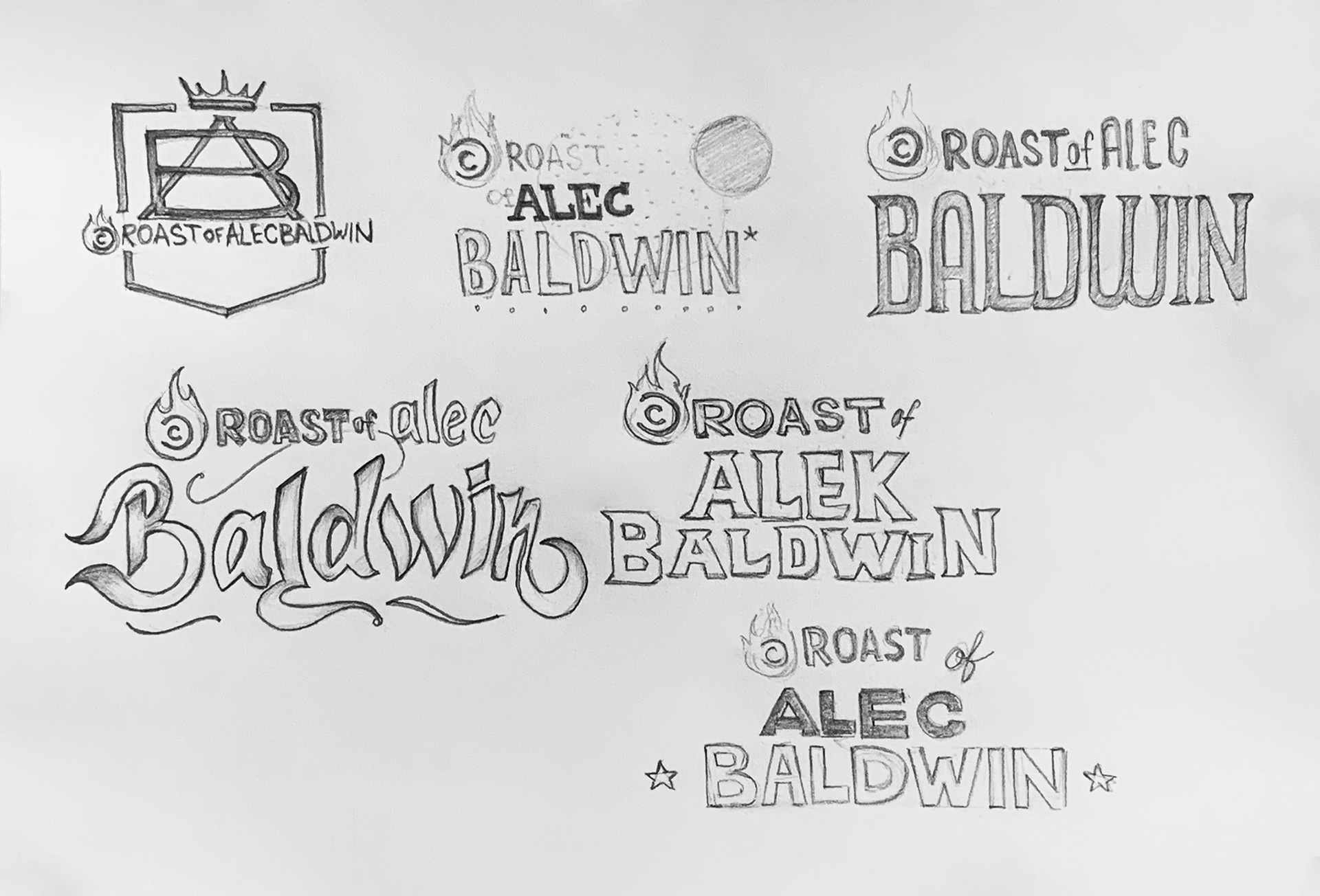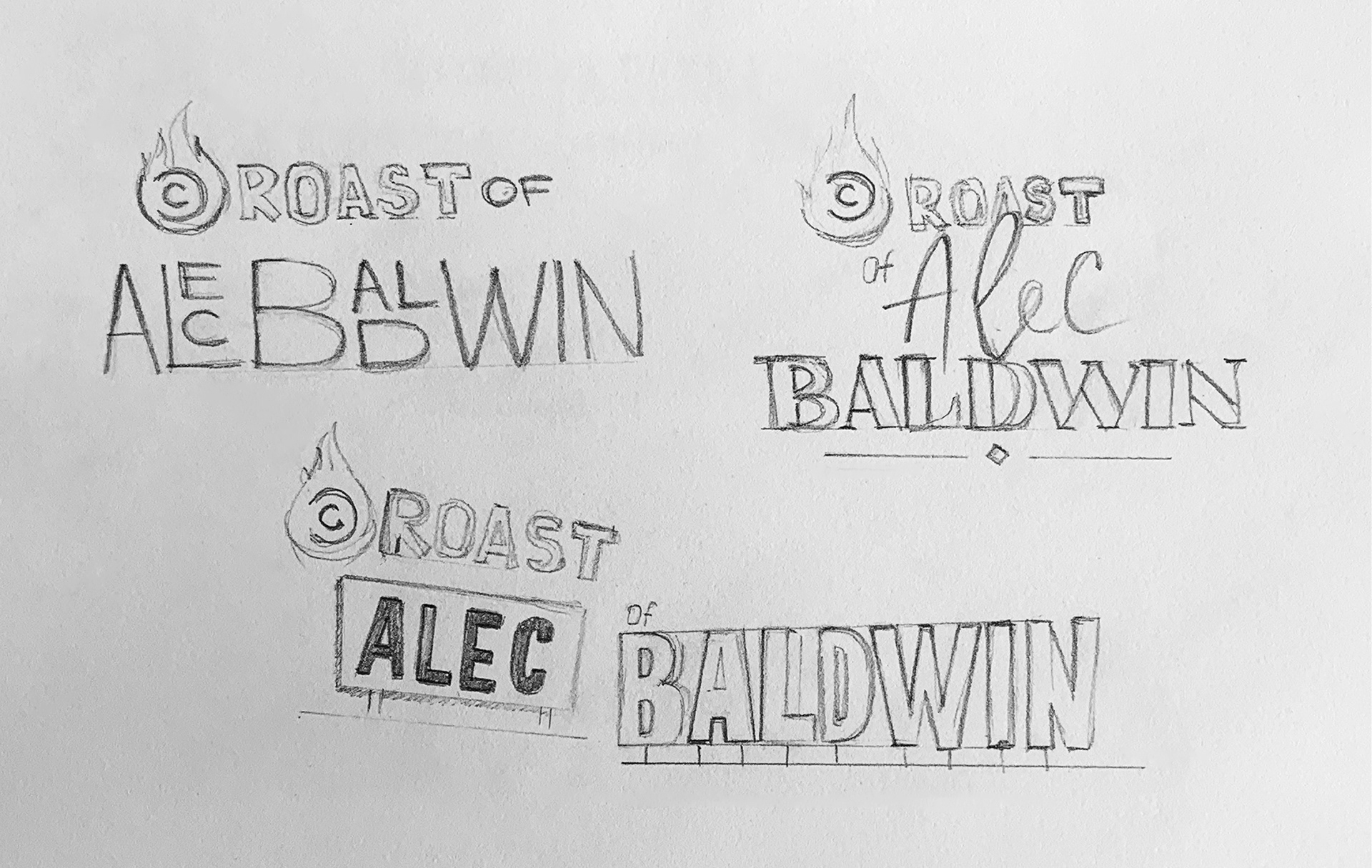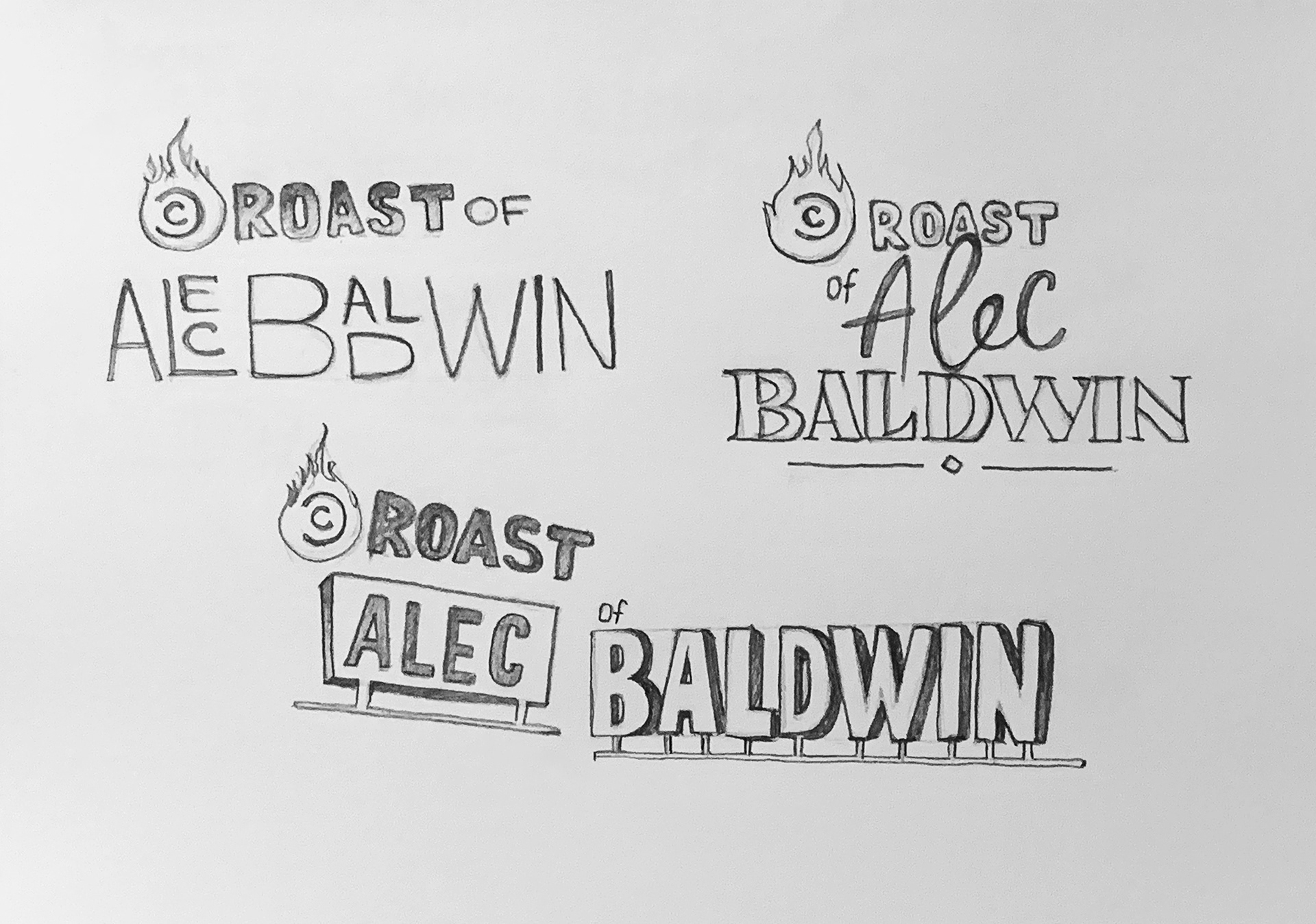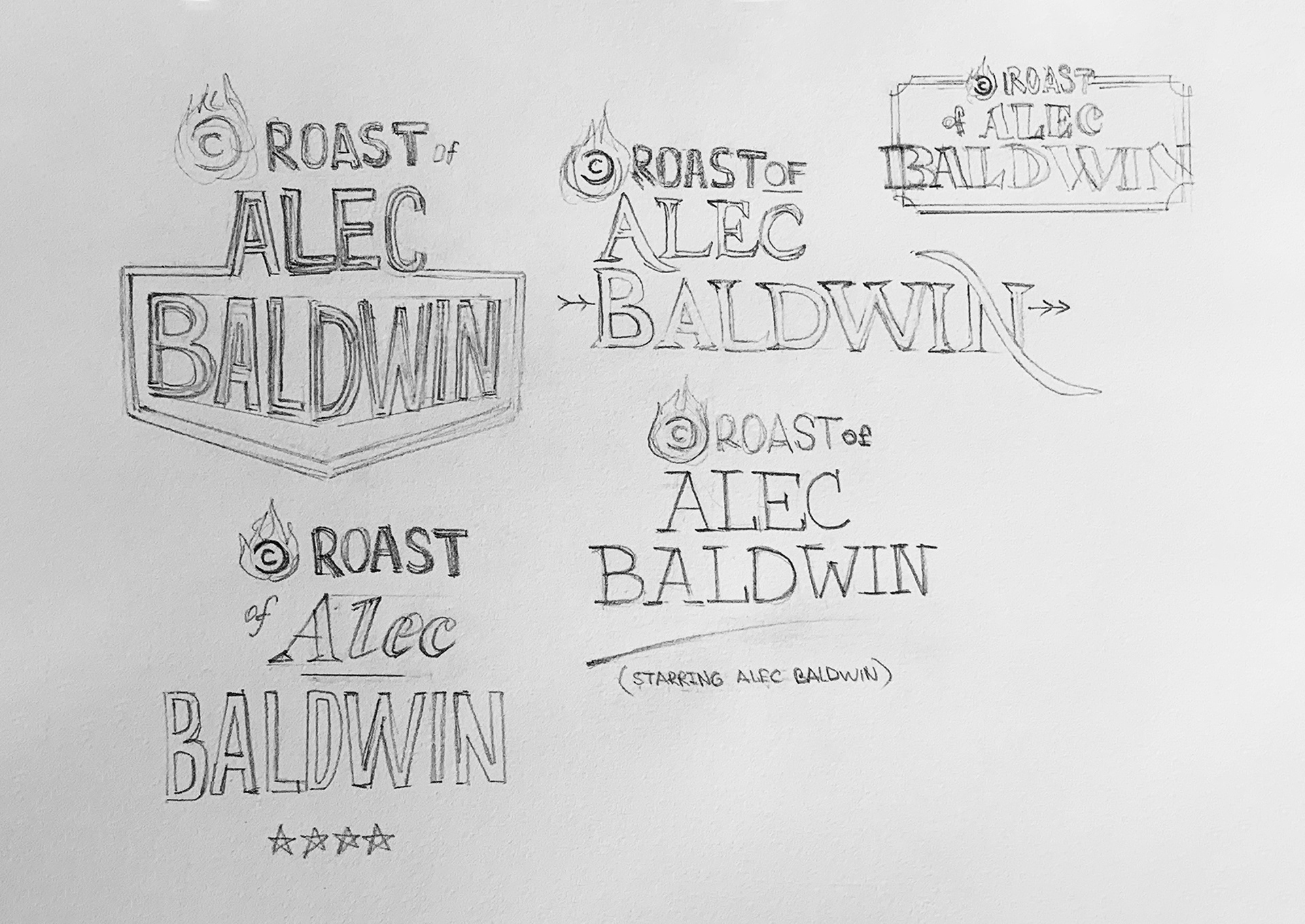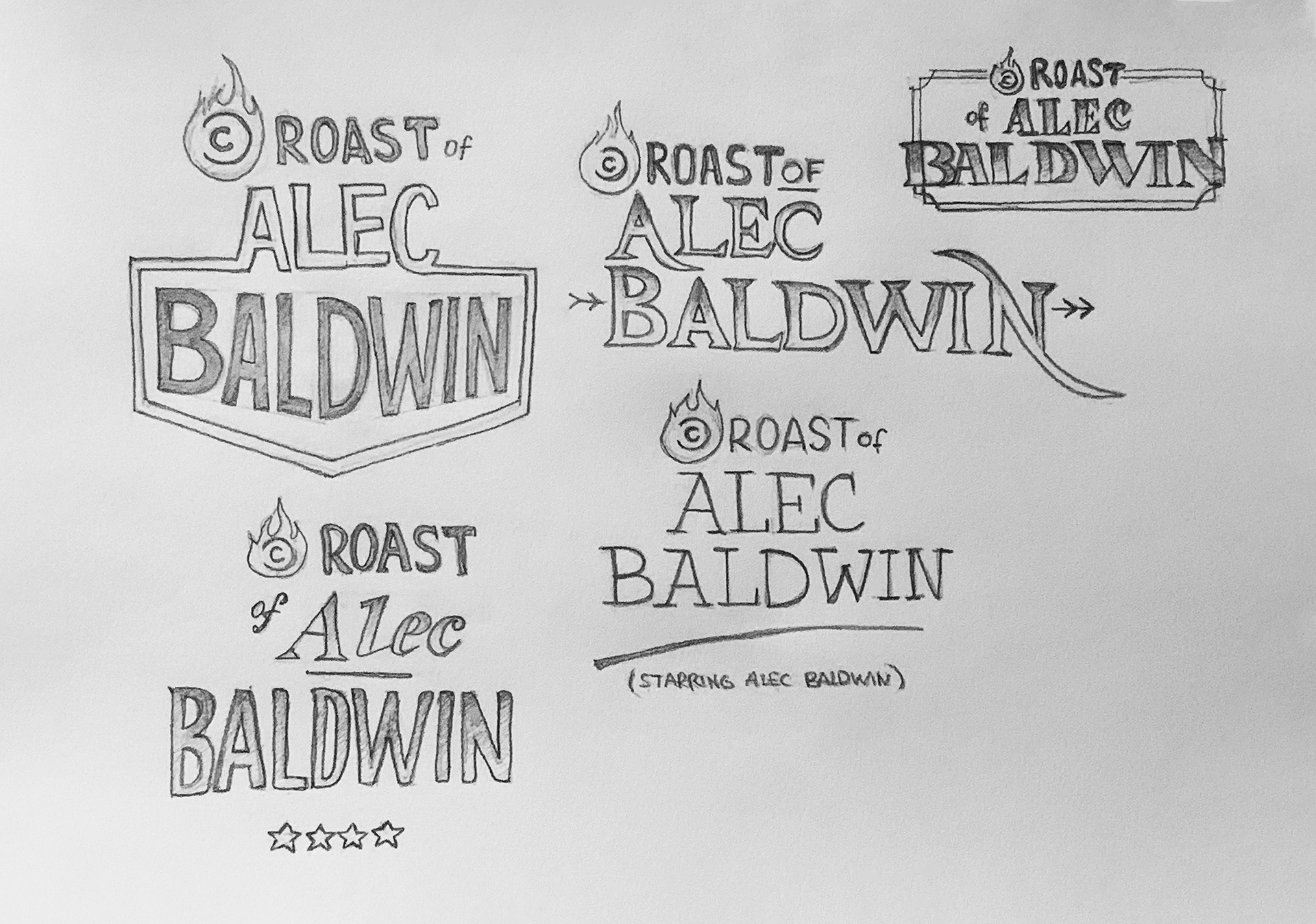 The Comedy Central Roast of Alec Baldwin was a ratings juggernaut, drawing 2.4 million viewers in total. This number beats out previous Roasts in Roseanne Barr (2012), James Franco (2013), Row Lowe (2016), Bob Saget (2008), and Joan Rivers (2009).  
On social, Baldwin's Roast did better than the Bruce Willis Roast the year prior, with views on Instagram, Twitter and YouTube up by 151%. 
Within the company, the 'Baldwin Roast' garnered widespread praise, not only for its creative output but top-notch collaboration across both the Design, Editorial, and Production teams, respectively.
Client: Comedy Central
SVP of Brand Creative: Vedia Ayvaz
VP of Design (On-Air): Chris Scarlata
VP of Design (Off-Air): Angelina Battista
Art Director/Designer: Brandon Lori