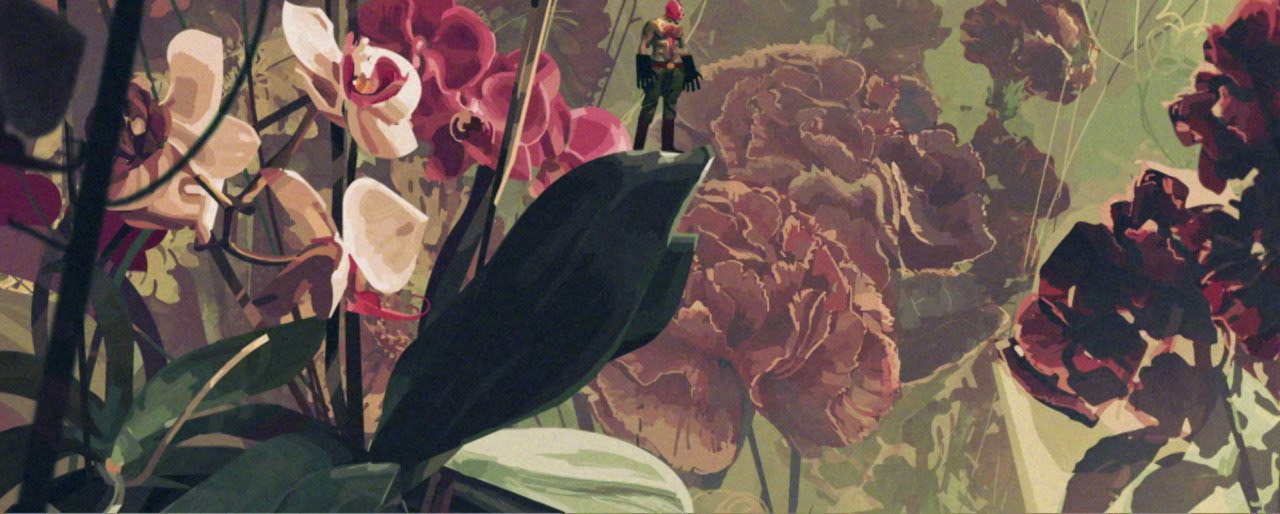 Alberto Mielgo
is an artist's artist. It is a particular distinction, suggesting not mere talent, but a quality of rebelliousness, one whose appeal is contingent upon his unique role as both a painter and animator — refining his style as an art director, but most importantly, an artist.
You've seen his work before, but may not know it. The influence of Mielgo's style can be detected in the production design for The
Beatles Rock Band
cinematic
, where he was given creative freedom to channel his trademark style, and produce color keys and layout for the first (2D) half of the masterwork, directed by Pete Candeland. Licensed with a gift for painting, today, Mielgo has earned himself legitimate entry into the ranks of art direction for the animation industry, but in truth, it didn't start out that way. Originally a 2D animator, Mielgo struggled to find his niche when most studios disavowed pencil and paper for CG. With his back against the wall, Mielgo —self-taught— began to paint, creating concept art for the commercial and film industries before hitting the gallery circuit, and when push came to shove, making a living off of his painting.
By any measure, Mielgo's work is restless, graphic and defiant — the work of an artist entering into a sophisticated maturity — one who has earned such a command of painting that he feels the dogged urge to break the rules, and in the artists case, return to form.  Today, Mielgo is striking out on his own, thumbing his nose at CG, and coming home to animation in Pinkman.tv.
The school of thought behind Pinkman.tv is simple: a laboratory to explore 2D animation through fine art and traditional methods. In other words, less emphasis on computers; more emphasis on what is handmade. With the launch of Pinkman.tv, Mielgo has served up a cluster of experimental shorts that set the painters sentiments into motion. Each piece deconstructs reality into blocks of color — extracting the chromatic details of everyday life into something rich and lurid that, depending on the piece, can be subdued or explosive. Either-or, the result is undoubtedly potent. This flexibility in style speaks to his mastery of color, while the frenetic brushwork and unabashed construction lines create an agitated balance that, when animated, tremble in motion. The result is intense, fierce, nearly feral.
In the four experimental shorts below: Pill, Kill Your Stress, 女孩陰毛, and PINKMAN, Mielgo maintains a rigorous connection to materials, and in the ethos of Pinkman.tv, keeps CG at arms length — the defining tenet of his artist-code. The first video —a Making-of— exposes the modus operandi of the artist, as well as a short Q&A that sheds light on Alberto Mielgo and the rebelisms behind Pinkman.tv.
Making-of and Q&A with Alberto Mielgo

Can you describe your artistic background before finding your way to animation?
I'm self taught. However, I started working on animation very early so I did learn animation and techniques along with great colleagues. I´m still learning form many people around.
What is the concept behind Pinkman.tv?
2D, fine art and traditional methods but in the present time.
What was your motivation in creating the four pieces "Pill, Kill Your Stress, 女孩陰毛, and PINKMAN?" How are they related to Pinkman.tv?
I find that 2D has been badly treated lately. The 3D industry has collapsed the market and there is no more space for 2D. As well, the latest projects in 2D are too classical, old, quite out of fashion. But 2D can be extremely creative, graphic, with no limitations at all. There are people doing some amazing 2D stuff around. I've been pushing companies around to use more 2D. If you have a good painting, you don´t need lighting, textures – it's a much quicker process. You can see the result in Bealtes Rock Band as well. I also love fine art so I wanted to merge both with Pinkman.tv.
How was each piece technically executed?
I love that you ask me this. First of all, it's not rotoscope! I've been working as animator for a long time and I don't like rotoscope. Every piece is 2D (traditionally) animated.
For PILL, 女孩陰毛, and PINKMAN, the process is simple: scan, pencil, animation. Once the animation is right, I do a very basic color action. For example, pink for body and dark pink for shadows. Then, I paint on top of each drawing. As the shadow layer has also been animated, I don't loose shapes. As each frame is hand painted, the skin has that moving feeling, something that here, I was looking to see in the animation. So, every frame is a painting.
In the case of STRESS, the technique is the same, but the clean up is done by hand with black ink pens over standard paper, where I then scan it and edit it. The software used has been Photoshop and After FX. Phil Holder, a great 4×4 technician, helped me on many things and will hopefully in the future as well.
The sound is done by Luis Iruela, in LACAJAGRABACIONES.com – really great guys, very understanding people.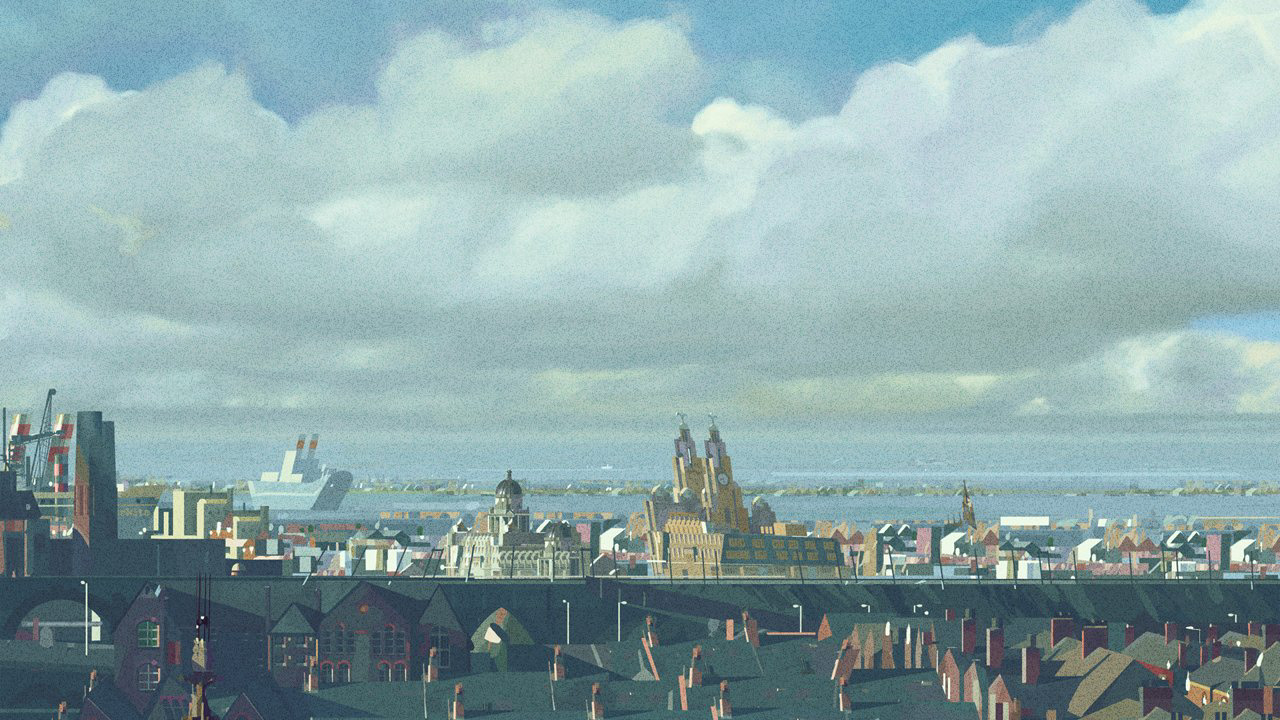 Where these four pieces your first attempt at creating a series of animated shorts by yourself?
Yes.
Can you describe how you, as a painter, found your way to animation?
Actually, it's the other way around. I did start working in animation when I was 17. When 3D animation arrived and took over the market, I had to find another way of living. 3D wasn't my thing, as I like pencils, paper, painting, and getting dirty, so I started doing paintings and concepts for commercials and movies. Afterward, this is when I approached galleries to sell fine art.
What have been your favorite commercial projects to work on?
Beatles Rock band for sure. They asked me to do my style and they were happy with each piece. The limit of creativity didn't exist at all. It was great. Also, the team was fantastic. My maits Rob Valley and Pete Candeland are great people to work with. We always enjoy so much working together. I also love my time at Cartoon Network where I'm developing upcoming projects.
What role did you play in the creation of the opening cinematic for The Beatles RockBand?
I was asked to create the look of the first half: Liverpool, NY and London, where I was doing color keys and backgrounds.
For you, is there a correlation between painting and animation?
Definitely, I can´t have one without the other.
Who and what inspires you?
The most inspiring thing for me is to be seated working.
Written by
Brandon Lori

​​​​​​​