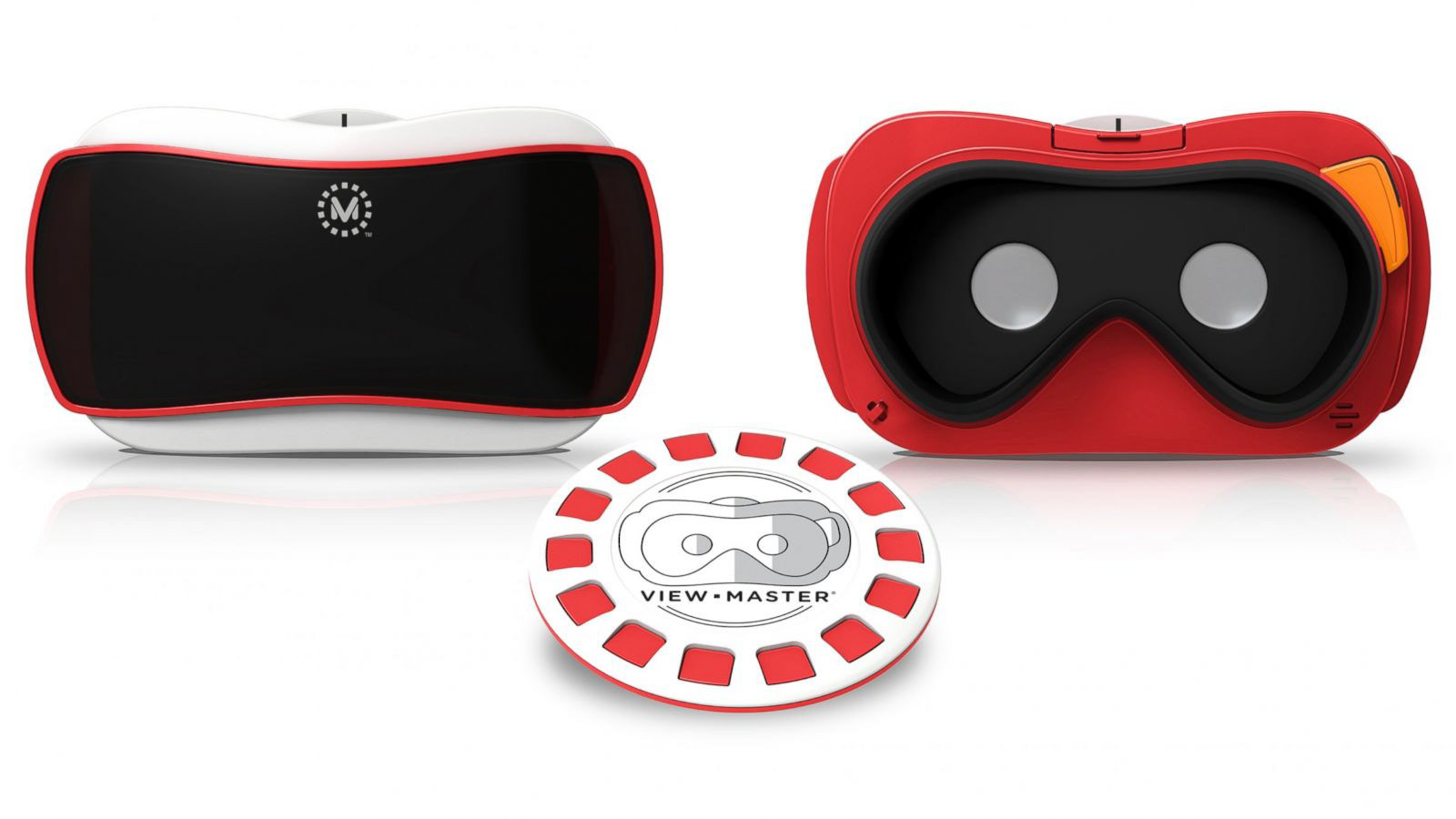 Inside Mattel's View-Master Virtual Reality box, you'll find a bright red set of stereoscopic goggles, reminiscent, but only vaguely familiar to the classic version of the playtime relic. The new model has been redesigned for digital natives of 2015, kids accustomed to experiencing content in high-def or real-time.
To be clear, View-Master VR is neither of these things.
The $29.99 device is the 2.0 version of the miniature-slide projector that once gave kids a feel for stereoscopic 3-D through means of vintage technology. View-Master VR is consistent with this idea. The toy boasts a brand-new design and is upgraded with modern, kid-friendly VR but stops short of delivering an experience that is truly immersive.
Old-School Toy Goes High-Tech
Mattel first introduced the View-Master ® Virtual Reality box in February, giving us a sneak peak behind the toy co's first venture into virtual reality for kids. The View-Master's design was initially developed with Google and Android in mind, but also works with iOS. It's powered by Google Cardboard technology, a simple app that transforms any mobile device to a VR headset.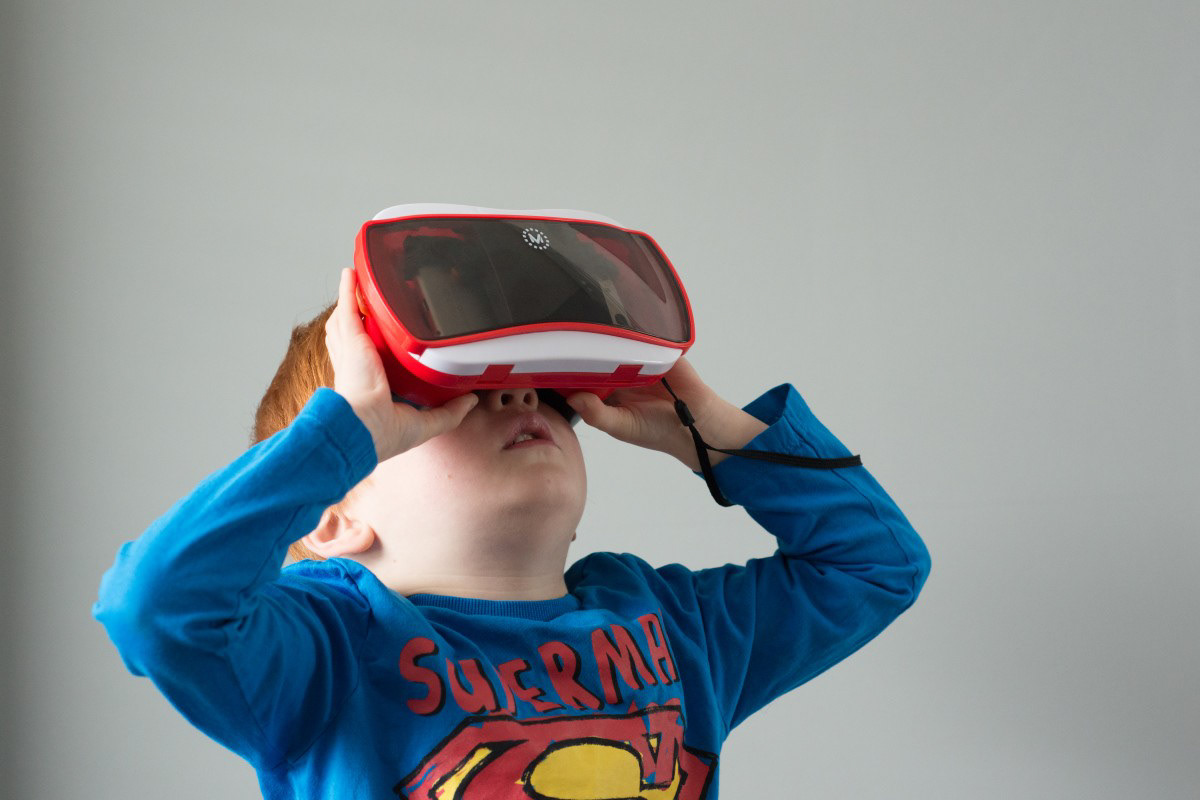 With a single reel and click of a lever, the classic View-Master — first introduced 75 years ago — allowed generations of kids to be transported around the world, up in space, off into nature, and inside any number of pop-culture franchises. 
Today, kids expect much more.
Changing Times, Adapting Play 
Playtime is becoming ever more fleeting and traditional toy sales are on a steep decline. Younger generations are reaching for their smartphones rather than conventional toys. Finally, toy companies are taking notice. 
Enter View-Master ® Virtual Reality.
Mattel's refreshed version of the toy retains the same charm of the original, but displays a sleek, space-age style design. Now, with the View-Master VR, kids can unlock the toy, insert a smartphone, activate any one of the three View-Master VR apps, then become digitally engaged in a fun but finite VR experience. 
With View-Master VR, kids become part of the environment, enabling them to float in space, tour cities, and read simple explanations of selected objects. With this new mobile eye, the View-Master sights that were once limited to simple 2-D projections are now experienced in full 360-degree 3-D, expanding the possibilities of kids play and educational learning to a new dimension.
Meshing VR Tech & Apps With Physical Toys 
The challenges of creating a unified play experience between physical toys and digital apps is the new frontier of play.
One functional play difference between View-Master classic and View-Master VR is the slides. With View-Master VR, slides don't serve the same practical purpose as they did with the classic version. Now, kids no longer insert the slide into the toy; instead, they hold the slide no more than 10 inches from the goggles, pull the lever, then activate the experience.
Admittedly, it's a bit finicky — sometimes failing to activate after multiple attempts of pulling the lever with the slide in your VR viewfinder — but it shows great promise in playability. Right now, the slide is too much of a play barrier. In the next version, Mattel should reexamine the role of the slide to function like the classic View-Master — as an insert — and make the toy more user-friendly for kids.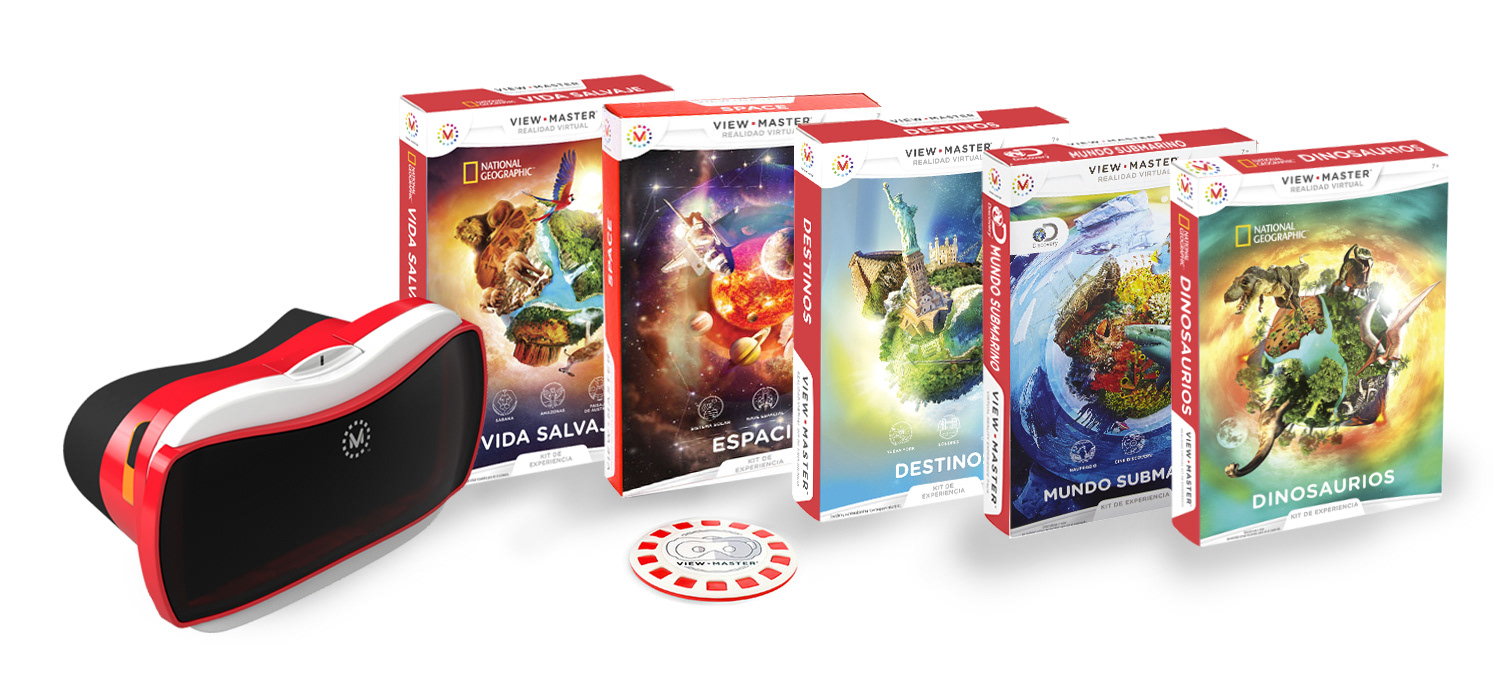 The toy does an admirable job of fusing a virtual reality world with augmented reality objects. Kids can engage with some of the items in the VR experience, though the interactive AR elements are certainly limited. Kids can also hear sounds while using the toy, but it's a bit glitchy. The play experience could certainly be enhanced with a built-in headphone set for sound effects or read-along commentary, but in this first version of View-Master VR, Mattel seems more interested in anchoring the VR play to a true ground level experience.
To a similar point, there's no head-strap on the View-Master VR. Just like the classic version, kids must hold the toy up to their eyes, as if looking into a pair of binoculars. Although this is an unusual design choice for a VR standard headset, according to Mattel, this is by design. To their logic, holding the toy to the eyes for longer periods of time gets tiresome. With no head strap, kids are naturally encouraged to take rest breaks, as a sustained VR experience can sometimes trigger minor bouts of dizziness. This subtle design choice separates the toy from other "wearable" play gadgets but is a clear indicator of Mattel's commercial intentions for the toy.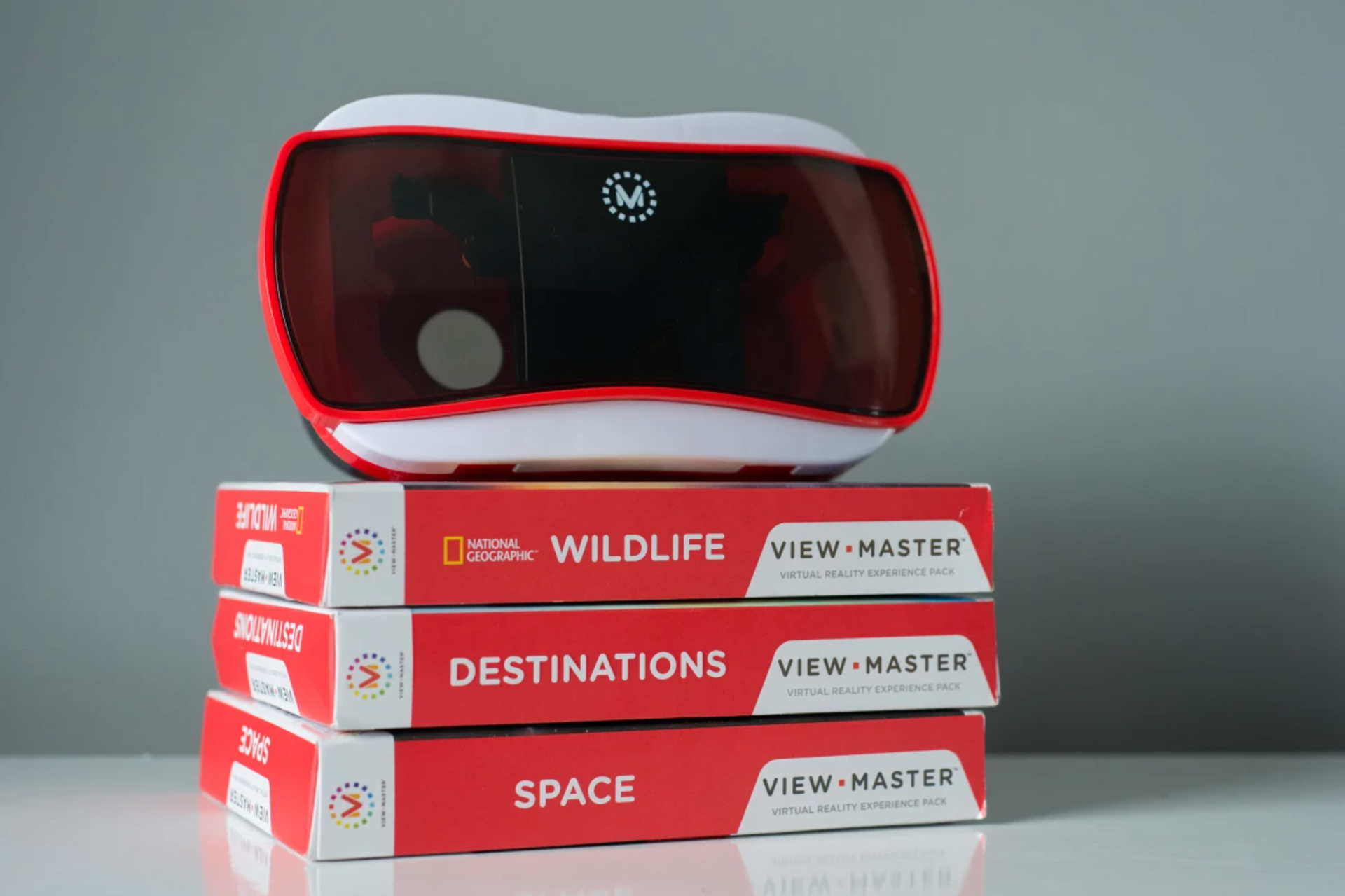 First Steps But No Giant Leap
Overall, View-Master Virtual Reality is a valiant first step toward introducing VR to kids play, but does lack the razzle-dazzle that today's kids expect in the high-end graphics world of 2015.
In this release, Mattel tries to find the right balance between honoring the simple charm of its classic View-Master, with the complex technology available today. 
Surely, if Mattel wanted to, they could have equipped the toy with headphones, head-strap and more stunning graphics, but in doing so, at what point does the toy — famous for its simplicity of use — turn into something it's not, possibly making it unrecognizable as a View-Master at all?
For View-Master VR, it's a balancing act. 
But rest assured, at a rock-bottom price point of $29.99, parents' money will be well spent, but keeping kids' attention with View-Master VR will be a challenge.
Ultimately, it's not a breakthrough product, but applaud Mattel for taking chances and bridging the gap from a classic toy to new technology. In doing so, kids will get an easy entryway to virtual reality as a new play-space for early learning and fun.
Written by
Brandon Lori

​​​​​​​